Megan A. Hayes, CStd, is the senior technical director of technical and industry affairs at the National Electrical Manufacturers Association (NEMA). She also serves as the chair of the International Electrotechnical Commission (IEC) Diversity Advisory Committee (DAC). In 2020, IEC and the International Organization for Standardization (ISO) partnered under the stewardship of the Joint Strategic Advisory Group (JSAG) to develop guidance to help technical committees ensure they are developing gender-responsive standards. ANSI spoke with Hayes about her work as the IEC Diversity Advisory Committee chair, and her goals for improving stakeholder participation.
What do SDOs need to know about the benefits of an inclusive space?
There is a lot of research that indicates that a diverse and inclusive workplace has a myriad of benefits, including higher revenue growth, greater readiness to innovate, increased ability to recruit, and higher employee retention. I would argue that those same benefits could be applied to a diverse and inclusive standards space as well. Moreover, including perspectives from a broad spectrum of stakeholders will make standards more applicable and acceptable. Every standards developing organization (SDO) should be thinking about how to ensure that their consensus bodies, working groups, governance groups, and staff work in an inclusive environment.
What can standards developers, working at the national and international levels, learn from the work of the Diversity Advisory Committee?
I'll preface this answer with the fact that the Diversity Advisory Committee (DAC) is very new. We had our first meeting in May 2022, so we have a lot of work to do and a lot to learn. But, I think that SDOs need to start thinking of a diversity plan and determining which diversity factors are most important for their work and constituency. For instance, the IEC has developed and published a diversity statement that specifies the IEC commitment to diversity and focuses its efforts on stakeholder, gender, and regional diversity.
How is data—baseline and benchmarks—impacting diversity work and the work of the DAC?
Without knowing where you start, it's difficult to know whether you're being successful. That's why the DAC has been working to ensure that the IEC is collecting the appropriate data to benchmark for each of the diversity factors mentioned above, and has plans to monitor progress in making the IEC a more diverse organization. While the DAC mission is focused on providing advice and counsel to the IEC Board, I believe that its work will have a broader impact across the organization, and I hope that the data shows that over time.
How does the DAC's work impact your work with NEMA?
NEMA, like so many SDOs, is facing retirements, as well as member and staff turnover. As we look to recruit the next generation of standards professionals and NEMA staff, it's important that we consider ensuring that diversity is a factor. I'm proud to say that NEMA has its first female president and CEO in Debra Phillips, and that our current Chair of the Board, Annette Clayton, is also female! But we still have work to do to have our governance, committees, and consensus bodies reflect the broad diversity in the electro-industry, and having a front seat at the work of the IEC is helping me to sharpen my thinking on outreach and recruitment.
What are you most proud of in your work on standards?
There's so much to be proud of when you are directly involved in standards and conformity assessment. Each day, standards impact our lives in so many ways, and the documents we write, while seemingly dry and boring, ensure safety, performance, and interoperability for products and services. It's the people that are involved in standards and conformity assessment that ensure that these documents get written, updated, and used, and I'm most proud of the relationships that I've been lucky enough to establish with this incredible and intelligent community!
What changes have you seen in the standards community over the last 20 years as a woman in standards?
Wow! Where to start on that question? My very first standards meeting so many years ago found me in a room with about 30 other people. All of them were men, most of them were white, and many of them were old enough to be my father. After 20 years, I guess the age thing has evened out a bit, and there are certainly more women and people of color participating across the standards community. It's always been a joke that the only place where there's no line for the women's room is at a standards meeting, but, I'm happy to say that I've waited in line quite a few times in the recent past! I hope that we continue to engage every stakeholder that wants to sit at the standards table—and recruit a diversity of voices, which is most important!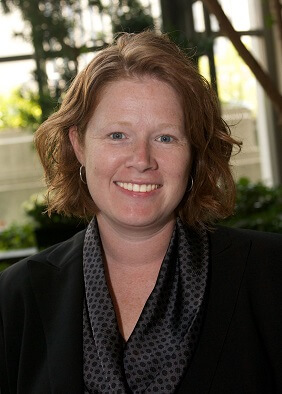 About Megan A. Hayes
Megan Hayes has more than 20 years of experience in developing standards and managing their implementation industry wide. In her current role, she is responsible for managing and improving NEMA standards development processes, participation in outside standards bodies (both domestic and international). She also has oversight of the NEMA Technical Field Representative program, and has managed dozens of committees and working groups and has helped develop and publish hundreds of technical documents.
Hayes has contributed to standards development strategy throughout her career, including through participation in the United States National Committee (USNC) to the International Electrotechnical Commission (IEC), as well as holding various leadership positions in the USNC, IEC, and the American National Standards Institute (ANSI). In addition to chairing the IEC Diversity Advisory Committee she currently serves as the vice chair for the USNC Finance Committee.
She is accredited by the Society for Standards Professionals as a Certified Standards Professional (CStd).