The Standards Alliance—a partnership program between the American National Standards Institute (ANSI) and the U.S. Agency for International Development (USAID)—recently collaborated with ASTM International (ASTM), the American Petroleum Institute (API), the National Standards Body of Cote D'Ivoire (CODINORM), Ghana Standards Authority (GSA), Senegalese Association of Standards (ASN), and the Standards Organization of Nigeria (SON) to host the third West African Petroleum Standards Workshop in Dakar, Senegal.

The March 20-23 workshop was a continuation of capacity-building activities under a three-year Standards Alliance project aimed at increasing understanding of relevant international standards for petroleum, and promoting harmonization of standards activities in West Africa. Through expert-led discussions, laboratory exercises, and site visits, the project seeks to identify challenges in Cote d'Ivoire, Ghana, Senegal, and Nigeria surrounding the use of ASTM and API petroleum standards, and to provide practical solutions for raising the level of quality testing in the region.
Designated project focal points, members of the national petroleum committee in Senegal, and other relevant oil and gas sector representatives came together to discuss applicable ASTM and API standards and testing protocols in a neutral forum. The event also included site visits to SAR Refinery—Senegal's primary downstream refinery—and Société Générale de Surveillance (SGS) Laboratory in Dakar, where the project focal points inspected various testing equipment, witnessed practical demonstrations, and spoke with lab technicians about testing method challenges for petroleum products.
More than 30 participants attended the three-day workshop, including public and private sector representatives from the U.S. and West Africa. Jim Olshefsky, ASTM director of external relations; Augustus Wiredu, ASTM's local technical consultant for the project; Bill O'Ryan, API senior manager of the Engine Oil Licensing Certification System (EOLCS)/ DEF/MOM; and other representatives from the USAID Mission, ASTM, and API provided presentations on petroleum standards development. Topics included technical reviews and voting procedures at petroleum technical committee meetings, licensing and certification, and testing protocols. ANSI also delivered presentations on the Institute's role, the Standards Alliance Program goals, and its relevance to the World Trade Organization's Technical Barriers to Trade (TBT) Agreement and Good Regulatory Practices (GRP).
Also in attendance were the eight project focal points, as well as representatives from the Senegalese Association for Standardization (ASN), SAR Refinery, Ministry of Petroleum and Energy, SGS Laboratory, and the African Association of Automotive Manufacturers (AAAM), among other important stakeholders from Senegal's oil and gas sector.
The project focal points shared presentations on the realized benefits of the program to date, and discussed the current state of the petroleum industry in each country. Presentations highlighted the following notable outcomes resulting from the project discussions:
Facilitated harmonization of test methods in the West African region, and enabled decision making based on industry best practices

Improved connections with equipment suppliers and suppliers of reagents, and informed procurement decisions about most suitable laboratory equipment

Improved validation of laboratory reports through programs, such as proficiency testing, interlaboratory studies, control charts, and certified reference materials

Utilized ASTM methods to settle existing disputes

Influenced petroleum standards in Nigeria and facilitated further work within the Major Marketers Association, particularly Nigeria's Industrial Standard (NIS) (currently being reviewed to meet requirements for AFRI-5 for Sulphur in both gasoline and gas oil). This modification, among others, will help promote low Sulphur fuels (50ppm max) and reduce emissions in the long run.

Future use of ASTM methods will help support identified challenges from refineries in Nigeria and Senegal, as anticipated capacity from refineries in Nigeria and Senegal is increased.
>Workshop attendees exchanged ideas on how to further improve testing results in each country, and identified next steps for revising and harmonizing local and regional petroleum standards and test methods. The next event is scheduled to take place in June 2023, where project focal points will get their first in-person opportunity to witness and participate in the petroleum standards development process at ASTM's D02 Technical Committee meeting on Petroleum Products and Lubricants in Denver, Colorado.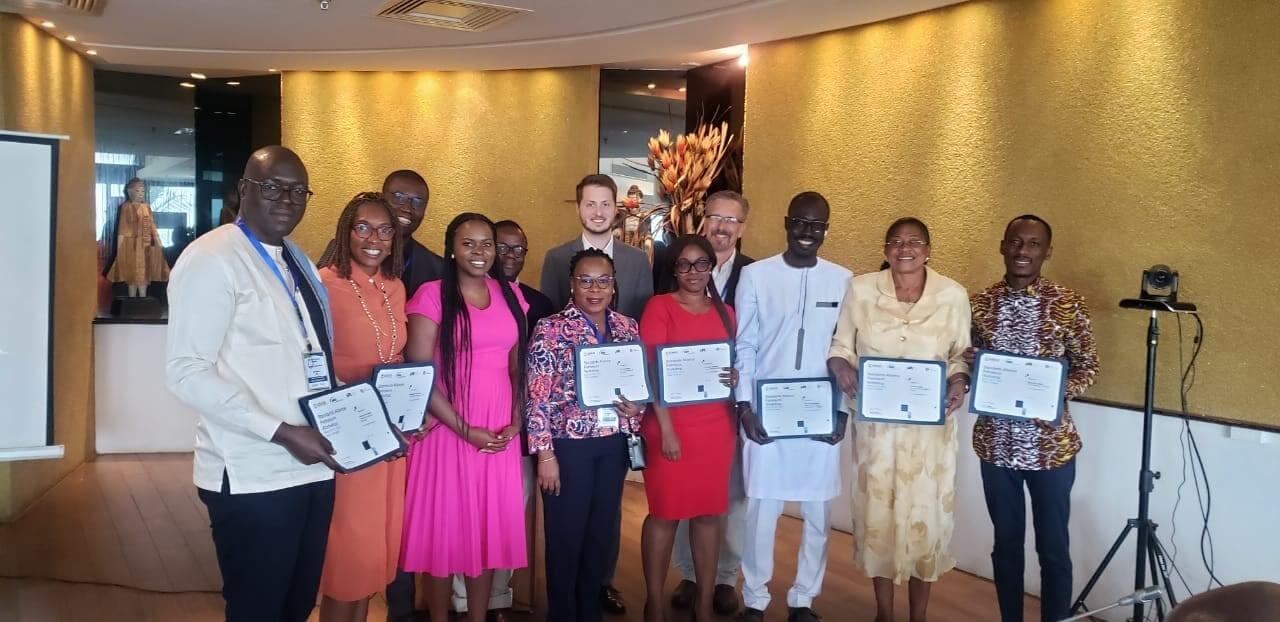 ASTM International and API's Work in West Africa
ASTM International and API have entered a partnership agreement with the Standards Alliance to implement a three-year project called "Harmonization of Petroleum Standards in West Africa." The project will support training focused on standards for the petroleum sector in West Africa, specifically targeting the biggest oil-producing/refining countries (e.g., Nigeria, Ghana, Ivory Coast, and Senegal). Click here for more information on the project scope and objectives.
For more information on the Standards Alliance, please visit standardsalliance.ansi.org.