Report Identifies 5 Emerging AI in Healthcare Themes and Opportunities for Standardization
The American National Standards Institute (ANSI) has released a new report that reflects stakeholder recommendations and opportunities for greater coordination of standardization for artificial intelligence (AI) in healthcare. The report, "Standardization Empowering AI-Enabled Systems in Healthcare," reflects feedback from a 2020 ANSI leadership survey and national workshop, and pinpoints foundational principles and potential next steps for ANSI to work with standards developing organizations, the National Institute of Standards and Technology, other government agencies, industry, and other affected stakeholders.
AI is gaining traction in the changing realm of healthcare—from diagnosis to treatments. With the growth of AI, which are systems capable of simulating human intelligence and thought processes, comes the need for standards that support safety, effectiveness, and trustworthiness of healthcare-based AI. As healthcare has unique considerations including sensitive health data and patient safety, standards that support informed regulatory measures are also essential.
Given these considerations, ANSI conducted a leadership survey in July 2020 that captured feedback from interested stakeholders on standardization issues, solutions, efforts, and the role of standardization in the governance and regulation of AI-enabled systems in healthcare. The survey results inspired discussions in ANSI's Standardization Empowering AI-enabled Systems in Healthcare Coordination Workshop, which featured a number of dynamic and high-level health care experts from industry and government, and focused on the role of autonomous and intelligent systems standards in medical software and consumer systems that interact with the professional healthcare sector.
Discussions at the virtual workshop in September 2020 contributed to the recommendations in ANSI's new report, which highlights five top emerging themes for AI identified by stakeholders, and summarizes areas for further exploration in the context of the themes identified:
Data

Trust

Transparency

Governance Frameworks

Risk Management
The report also provides a synopsis of the workshop panel discussions and offers opportunities for standardization and further considerations based on the outcomes and feedback from the meeting. ANSI presently is working with stakeholders to develop plans for a future workshop to explore needs, principles, and next steps for coordination of healthcare AI standardization, as highlighted in the report.
Stay up-to-date on ANSI's work in standardization in its Workshops and Coordination Activities webpage.
Access the full report, "Standardization Empowering AI-Enabled Systems in Healthcare."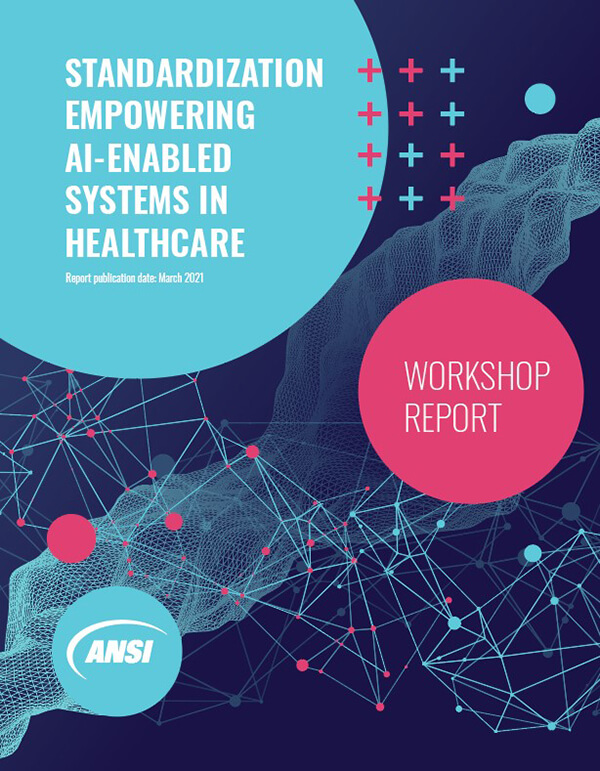 Read related ANSI news coverage:
ANSI Opens Survey: Standardization Empowering AI-Enabled Systems in Health Care