Aiming to promote insight-sharing on standards development, technology trends, and market demands, the American National Standards Institute (ANSI) and the Korean Agency for Technology and Standards (KATS) hosted the first Korea – U.S. Standards Forum, exploring collaboration opportunities in standardization between the two countries. The event included a meeting between ANSI and KATS leaders, an online-onsite hybrid Open Forum, and four small-scale technical sessions.
The Open Forum, simultaneously broadcast in Korean and English, attracted nearly 2,000 viewers across the globe. During the event, KATS administrator Sanghoon Lee and ANSI president and CEO Joe Bhatia signed a new implementation plan under the existing Memorandum of Understanding (MoU) to deepen cooperation in standardization strategies and activities between the two organizations. The forum featured high-level speakers from ANSI, Underwriters Laboratories, Quantum Economic Development Consortium (QED-C), and other companies, in addition to Korean counterparts in the public and private sectors. A replay of the Open Forum in English is available on YouTube.
Led by the co-leaders from the U.S and Korea, the in-depth technical sessions focused on four key technologies – artificial intelligence, quantum, semiconductors, and autonomous driving – and drew over 100 subject-matter experts from the government, academia, and industries of both countries. The sessions facilitated intimate discussions and interactive knowledge exchange in each sector, which will foster more networking and cooperation opportunities in the future.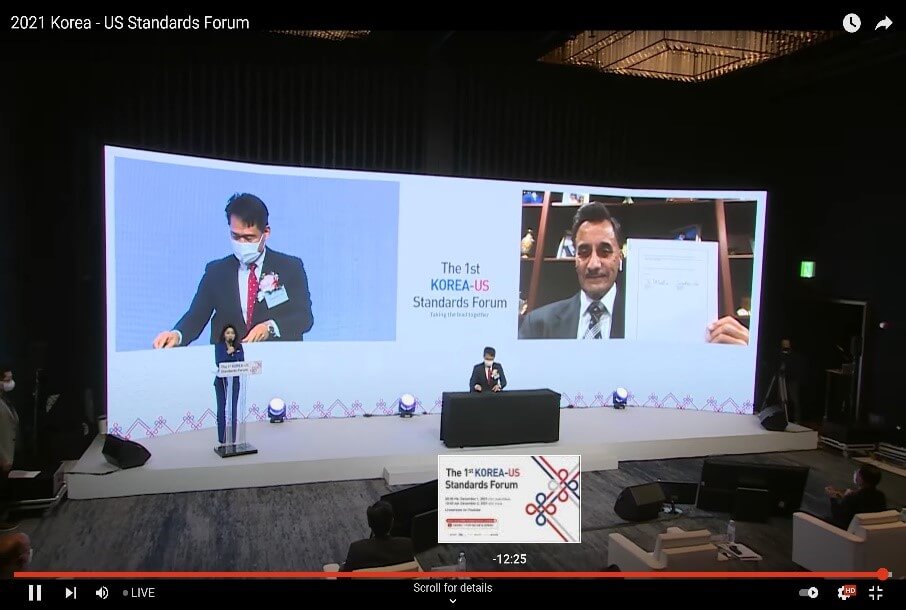 About ANSI
The American National Standards Institute (ANSI) is a private non-profit organization whose mission is to enhance both the global competitiveness of U.S. business and the U.S. quality of life by promoting and facilitating voluntary consensus standards and conformity assessment systems, and safeguarding their integrity. Its membership is comprised of businesses, professional societies and trade associations, standards developers, government agencies, and consumer and labor organizations.
The Institute represents and serves the diverse interests of more than 270,000 companies and organizations and 30 million professionals worldwide. ANSI is the official U.S. representative to the International Organization for Standardization (ISO) and, via the U.S. National Committee, the International Electrotechnical Commission (IEC). For more information, visit www.ansi.org.