Linda Golodner, President Emeritus of the National Consumers League (which she led for 24 years), and current Principal of Consumer Initiatives, has dedicated her career advocating for consumer rights, focusing on corporate responsibility, fair labor standards, and ethical behavior in the marketplace. In January, she became chair of the ANSI Consumer Interest Forum (CIF), following a previous term as vice chair.
For the 2022-2023 term, Golodner will represent ANSI and the United States on the International Standards Organization's (ISO) Committee on Consumer Policy (COPOLCO) Chair's Advisory Group, representing the U.S. voice for consumers internationally. A testament to her commitment to consumer advocacy, Golodner was the U.S. consumer expert on the ISO Working Group (WG)[1] on social responsibility, which developed ISO 26000, Guidance on Social Responsibility. ISO 26000 helps organizations translate social responsibility principles into effective actions and shares best practices relating to social responsibility globally. It is aimed at all types of organizations regardless of their activity, size or location. Today, more than 80 countries have adopted the ISO 26000 standard.
ANSI spoke with Golodner about her efforts in driving consumer advocacy to support standardization, and how consumer groups have already contributed to social responsibility for better business.
How did you first get involved with ANSI?
LG: Former Consumer Product Safety Commission Chair, Nancy Harvey Steorts, asked me to get involved in 1999, when the annual meeting of ISO/COPOLCO was held in the United States. Since then, I have enjoyed working with ANSI, ISO, and standards organizations to share consumer perspectives, amplify messages for the public, and encourage other consumer advocates to participate.
Why should consumer advocates participate in the Consumer Interest Forum?
LG: ANSI's Consumer Interest Forum is the channel through which U.S. consumers can participate and influence the development of standards and standardization policies at both the national and international levels. The CIF works to promote the education of consumers regarding the activities of ANSI and the standards development community and to facilitate the representation of consumer interests in voluntary standards and conformity assessment. Our colleagues on the CIF include advocates from Consumer Federation of America, Consumer Reports, Stop Foodborne Illness, former members of the Consumer Product Safety Commission, other leading nonprofits, and national, state, and local advocates.
What is expected of organizations to be part of CIF?
LG: As a part of ANSI's CIF, consumer representatives have an opportunity to provide valuable input to the standards community. Diverse voices at the table broaden perspectives when a standard is being developed and policies are established. There are several ways that a consumer representative can influence the outcome of discussions, resulting in better, more relevant standards, and therefore more desirable products and services.
You were involved in ISO 26000 WG on Social Responsibility, which included contributions from representatives from government, NGOs, industry, consumer groups, government, and labor organizations around the world. Why does "social responsibility" matter to consumers?
LG: Social responsibility has become mainstream, and the ISO standard helps ensure credibility. Florence Kelley, a founder and first General Secretary of National Consumers League, where I was executive director and president for more than two decades, ­said: "To live means to buy, to buy means to have power, to have power means to have responsibility." She knew this to be true in 1899!
ISO 26000, while not a management system standard, is important because it allows organizations to better understand what they need to do, and it allows consumers to understand and compare these benchmarks. I just read a report indicating that over 60% of consumers want businesses to drive social and environmental change forward themselves even in the absence of government regulation. One article cited research finding that 87% of consumers will purchase a product because the company is an advocate for issues they care about, and 76% of consumers will refuse to buy from a company that has supported issues contradicting their beliefs. And it's not only consumers who are interested in social responsibility, but employees too. In order to attract the best talent, all organizations need to consider their image on social and environmental initiatives. This is especially important to younger consumers, known as "Gen Z."
What advice do you have for consumers who would like to get involved in standards?
My advice would be please, come join us. We need your voice at the table to help make products, processes, and services that are better and safer. It can be hard work, and like other volunteer efforts, can be a commitment, but at the end of the day, your viewpoint will be heard and can make a difference!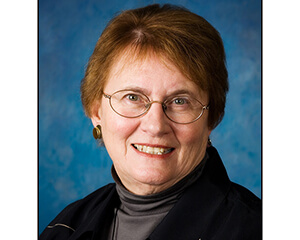 Are you an interested consumer and want to learn more about how to get involved?
Visit ANSI's Consumer Affairs Activities webpage or contact Cleo Stamatos, ANSI's consumer and legislative outreach manager at cstamatos@ansi.org.
---
[1] NSBs could only appoint one consumer (and one labor, one industry, one government, one NGO, and one "other," such as a consultant or academic.)